Val d'elsa route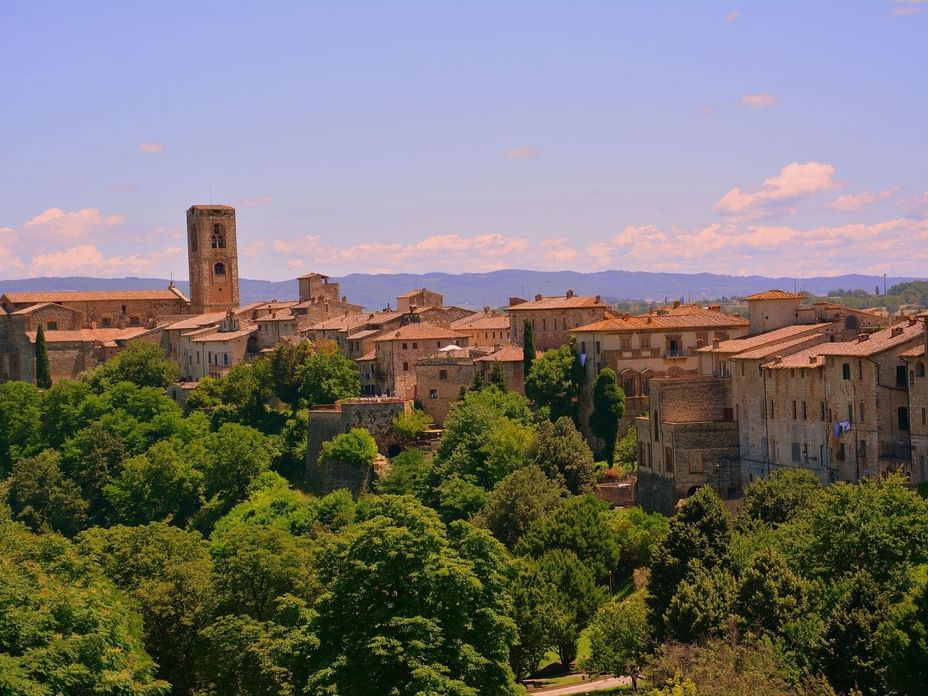 ROUTE FROM SIENA TO VAL D'ELSA (1/2 days)
The Val d'Elsa occupies the north-western part of the province of Siena. It was a region disputed between Siena and Florence and it has always been a commercial and entrepreneurial area. However, there are still a lot of fortified villages, castles and landscapes which may be of interest for the tourist.
Follow the freeway to Florence. If you want to make a short stop to visit the small, fortified village of Monteriggioni, you take the exit with the same name. Nested on a hill in strategic position, Monteriggioni was one of the outposts built to defend the town. Well-known are its towered walls and the well, quoted by Dante in the Divine Comedy (Inferno XXXI).
Back on the freeway to Florence, at the exit Poggibonsi Nord you follow to San Gimignano. This small town is famous because of its towers and still preserves its typical mediaeval structure. When you arrive at Porta San Giovanni, you walk along Via S. Giovanni to Piazza della Cisterna with the well which gives its name to the square. Almost in front of the well there is the Museo della Tortura (Museum of torture instruments), whereas the Palazzo del Podestà and the Collegiata overlook the nearby Piazza Duomo. In this church you can admire frescoes by Barna da Siena, Taddeo di Bartolo and Benozzo Gozzoli, whereas the ones in St Fina's chapel are by Ghirlandaio and represent the life of the saint from S. Gimignano. San Gimignano Tuscany is famous for its products too: Vernaccia di S. Gimignano DOCG and saffron.
Although the first impression might be disappointing, Colle Val d'Elsa is worth a visit too. Most of European crystal is produced in Colle and the history of this kind of production from the 18th century to nowadays is well documented in the Museo del Cristallo. The small town still preserves its mediaeval centre in the upper part.
From Colle you can continue to Casole. Casole d'Elsa lies on top of a hill, in panoramic position. Here it is possible to visit the Collegiata dating from the XI century, but continuously retouched. Mensano, a small, fortified village, lies close to Casole. In the chiesa di S. Giovanni Battista you can admire the Romanesque capitals with their complex decorations.