Crete area down to chiusi route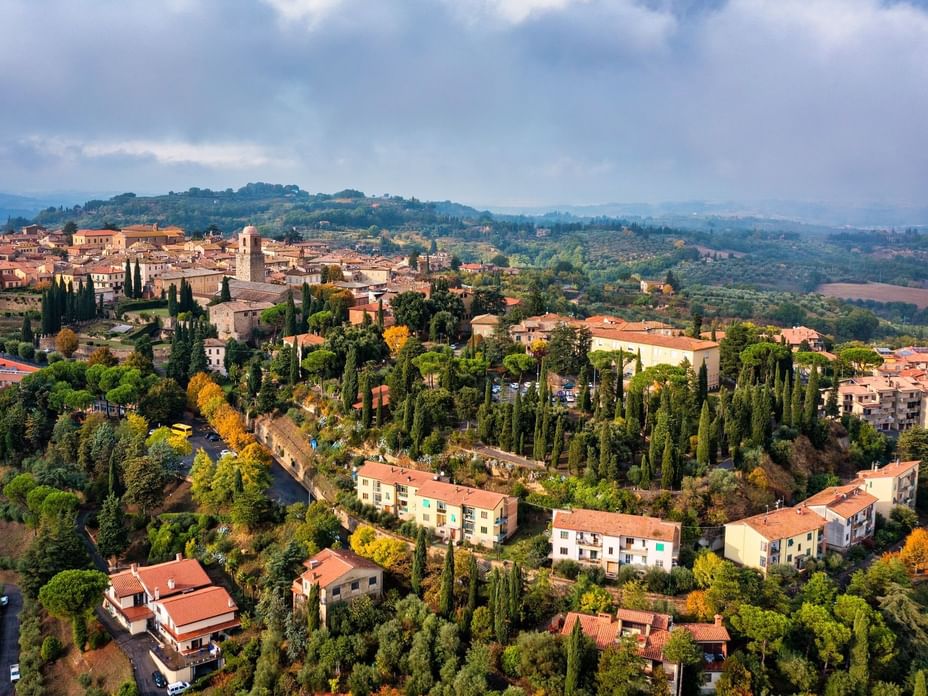 ITINERARY: CHIUSI - MONTEPULCIANO - CRETE SENESI (1/2 days)
Chiusi: during the reign of the Etruscan king Porsenna the town reached the height of its power. You can visit the Romanesque Cathedral and the Museo della cattedrale (Cathedral Museum). From this one you can enter the so-called Labirinto di Porsenna (Porsenna's labyrinth), a 120-metre-long tunnel leading to the big cistern situated under the bell tower. The Museo archeologico nazionale lies next to the Cathedral and is rich in Etruscan finds. Visits to the Etruscan tombs, among which the famous Tomba della Scimmia, can be reserved at the museum.
From Chiusi you can easily reach Montepulciano which once lay in the territory of the Republic of Florence. Montepulciano still preserves its walls and many Renaissance buildings. A visit to the town can begin on Piazza Grande where the Palazzo comunale and the Cathedral are. In the latter you can admire the Annunciation by Taddeo di Bartolo. Turning into Via Ricci, at number 11, you can see Palazzo Ricci in the cave of which there are the Cantine Redi, true sanctuary of Vino nobile di Montepulciano.
The southern part of the province of Siena is characterised by a barren landscape. This, together with the calcareous formations, makes it a place of rare beauty. In this area there are plenty of thermal springs.
From Montepulciano follow the signs for Pienza. It is the birthplace of Enea Silvio Piccolomini who became Pope Pius II. It was he who decided to transform the medieval village of Corsignano into an "ideal city" by entrusting the project to the architect Bernardo Rossellino. Going along Corso Rossellino you arrive in Piazza Pio II, the heart of Pienza. The main monuments of the city overlook this square: the Cathedral, Palazzo Piccolomini, the Town Hall and the magnificent well designed by Rossellino.
From Pienza you can continue for Asciano, an ancient possession of the counts della Scialenga, still preserves its centre where each second Sunday of the month the Mercatino delle Crete (typical and organic products, terracotta…) is held. From Asciano you can easily reach Rapolano, a well-known thermal resort, and Serre di Rapolano where the Cappella dei Cacciaconti, princes of Serre, in the local church is worth a visit. In the village there is also a Grancia del Santa Maria della Scala, an ancient barn now used as a museum. Going back to Arbia, just outside Asciano, you turn to the left to follow the spectacular road leading to the Abbey of Monte Oliveto Maggiore. It was founded in 1313 by Bernardo Tolomei in the so-called Acona desert. The cloister of the abbey preserves beautiful frescoes by Sodoma representing St Benedict's life. Turning back towards Asciano, after one kilometre you turn to the right towards S. Giovanni d'Asso. The historical centre on top of a hill is dominated by the Castello where the white truffle fair is held. In the centre there is also S. Giovanni Battista's church dating from the 14th century.